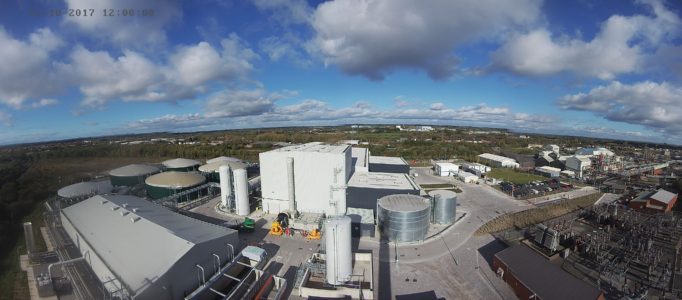 Construction work at the Ørsted (formerly DONG Energy) REnescience facility at Northwich is complete with process commissioning under way.
The REnescience Northwich project is a first of its kind using Ørsted's patented technology "REnescience" to treat up to 120,000 tonnes per year of unsorted waste from 110,000 UK homes. This unique method of treating waste using the ground-breaking biotechnology that converts household waste into energy and recyclable material; using a unique mix of enzymes for bioliquid creation which is then used in a traditional anaerobic digestion facility on site, for gas production for energy, and mechanical sorting and washing for recycling material. The non-recyclable material is used to make RDF.
Cobalt Energy was the Principle Contractor on site, managing the day-to-day running of the construction phase for Ørsted.
Using our knowledge and expertise in construction of Energy from Waste facilities as well as our collaborative approach to co-ordination and problem solving we managed a multi-function team that delivered all elements of the construction programme on time and on budget.
We are proud to have worked with Ørsted in delivering this first of a kind facility which treats waste without thermal destruction, whilst producing clean recycled materials and green electricity from waste.