Our range of services are performance focused, using innovative optimisation technology and techniques to add maximum value for commercial and utility scale solar PV projects.
We can provide support at any point during the project's lifecycle, from planning to operation through our partnerships with a number of developers, Engineer, Procure and Construct contractors (EPCs), operations and maintenance (O&M) service providers and asset owners.
Whether you are planning a build or looking to sell your site, we can introduce developers to bankable EPCs to build high quality plants and introduce asset owners to investors looking to acquire sites.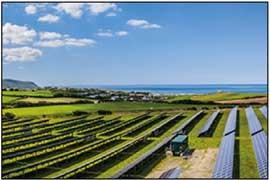 At Cobalt Energy, we have an established operations and maintenance (O&M) services division currently providing services on over 300MWp of utility scale solar PV throughout the UK. By delivering a high quality service, we ensure that the operational performance of your assets is maximised. Unlike traditional O&M packages, we offer standard or bespoke packages of work as well as payment flexibility through either priced rates (£/MWp/year) or call-off service agreements. Our selection of O&M services are tailored to your needs and include:
Key holding and guard call-out service
Predictive and preventative maintenance
Reactive and corrective maintenance
Monitoring and reporting
Grounds maintenance and panel cleaning
Incident management
Stock management
IV-curve testing
Aerial thermal imaging – drone surveys
Through our previous experience of successful site take overs post-FAC (Final Acceptance Certificate), we have a standardised site take over process which includes site assessment, scope optimisation, improvement plan generation and a site or portfolio specific 'open-book' pricing schedule. We specialise in problem sites and out of warranty equipment, with a widely experienced and qualified team, Cobalt Energy have a reputation for turning sites around and providing a high quality of service.
It is essential to understand the operational status of all solar system components to ensure maximum operability. Cobalt Energy offers a number of specialist testing and optimisation services to measure the performance of solar PV modules.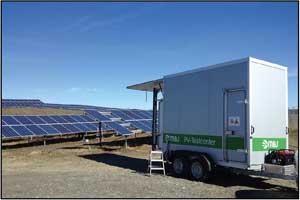 MOBILE EL AND FLASH TESTING LABS
Partnered with leading module testing specialists, we provide in-field Electroluminescence (EL) and Flash testing solutions with high accuracies. We test up to 250 modules per day, capturing high-resolution EL images and accurate power output curves for further analysis. We are able to identify a range of module failure defects and assess power output to provide recommendations for improvement.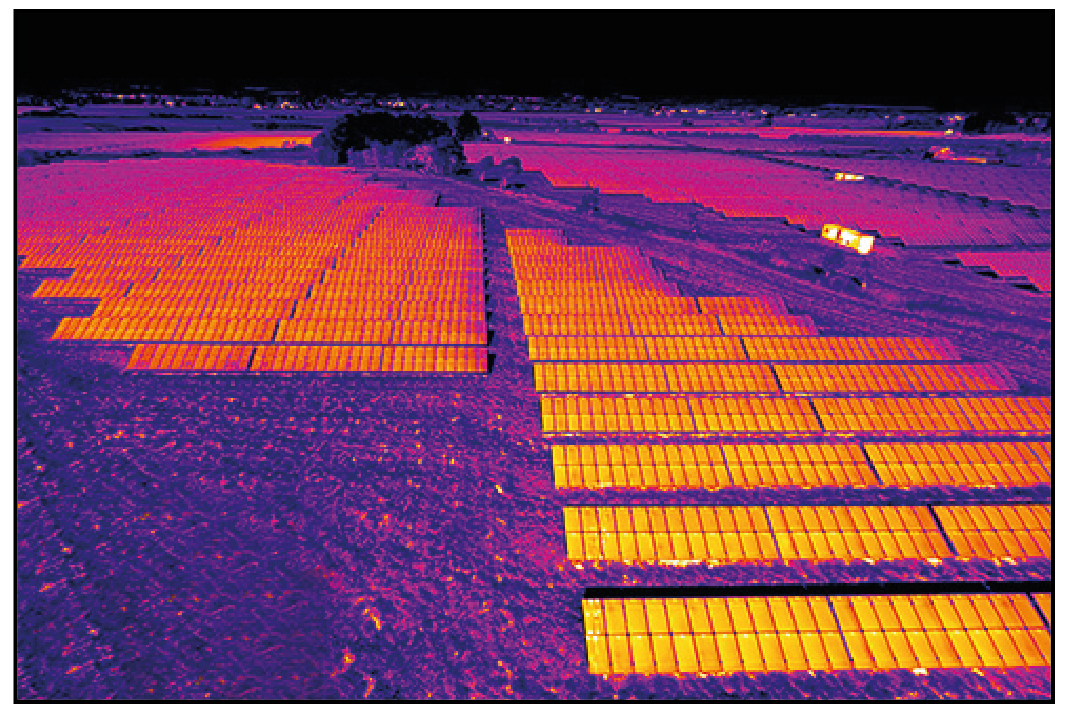 AERIAL THERMOGRAPHY
Cobalt Energy offers drone aerial thermography for large scale sites to identify high level issues such as inactive strings, diode faults, shading, hot spots and in some cases Potential Induced Degradation (PID). Partnered with professionally qualified UAV specialists, we use infrared radiation interpretation techniques to provide an overview of the site, allowing the quick and efficient resolution of issues throughout your site. Repeatable survey routes means results can be compared year on year, monitoring any areas of concern and potential deterioration trends. We offer a range of outputs to suit your needs, from basic reporting to the use of interactive online portals.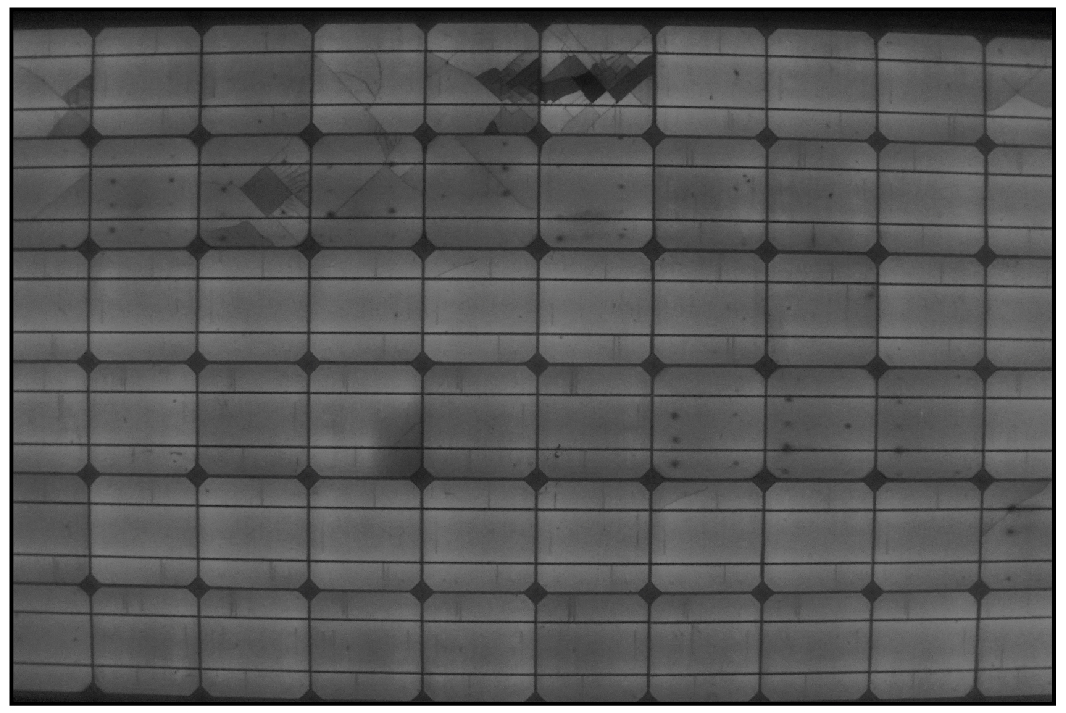 DAYTIME & NIGHT-TIME EL SERVICES
Working with leading European technology partners, Cobalt Energy has developed both daytime & night-time EL services aimed at delivering high volume module assessments. Depending on the objectives of the assignment, Cobalt Energy can design an optimised solution for both operational sites and those under construction. We capture a large volume of high quality EL images and measure in both daytime and night-time, without the need to pick modules. Measuring between 500-3,000 modules per day/night, we undertake high-volume sampling to capture current and future module defects and power loss failures at cell level.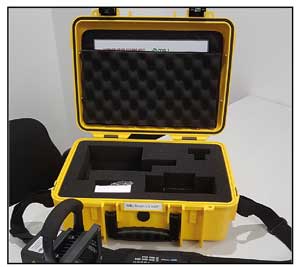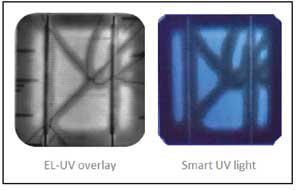 MICRO-CRACK INVESTIGATIONS USING UV
Cobalt Energy have the capability now to carry out site-wide surveys using smart UV light technology to identify micro-cracks on modules at night. Our technology partner has specifically developed a smart UV spectrum LED light and correlating UV camera filters with solar PV inspections in mind. The big benefit is that no powering of the panels is required in order to detect cracks, and this technique can be deployed very quickly. As well as leading this innovative and emerging service in the UK, Cobalt Energy are also able to supply survey equipment and specialist training to other EPC's and O&M's in the market, arming them with a must have piece of equipment for field based micro-crack detection.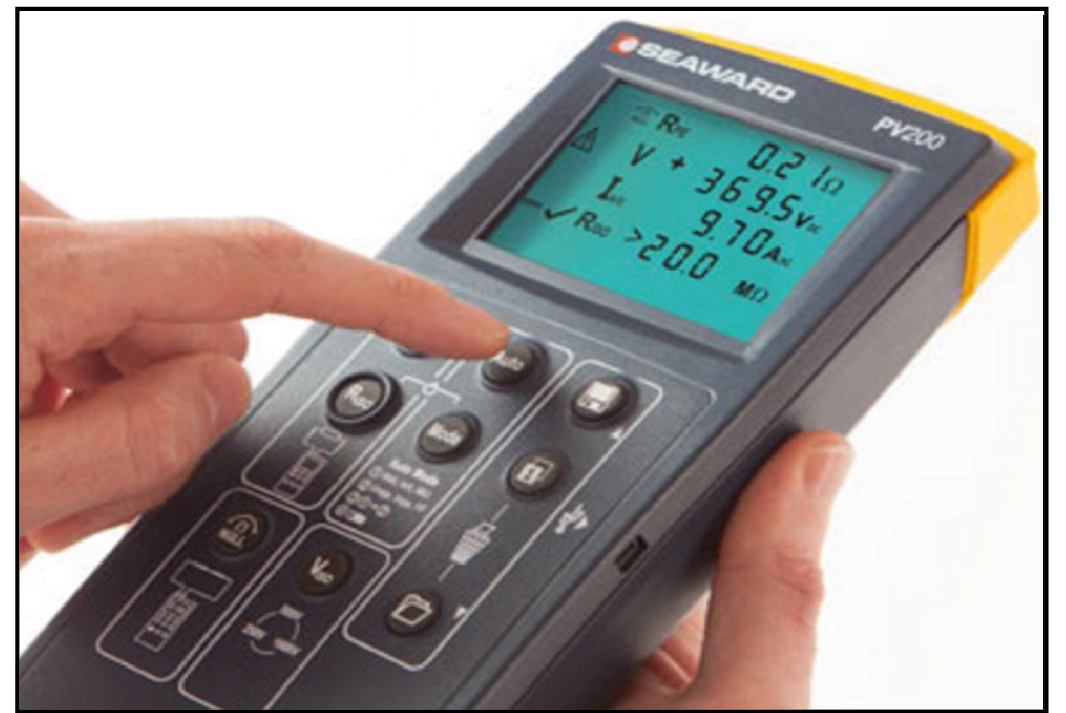 IV-CURVE TESTING SERVICE
Using Sewards PV200 with IV-Curve Software, we carry out a range of electrical tests including module and string level IV-tracing. We are able to convert IV-Curve measurements to standard test conditions (STC) depending on irradiation. No module picking is required for this service and we use high-volume sampling to detect module power loss issues.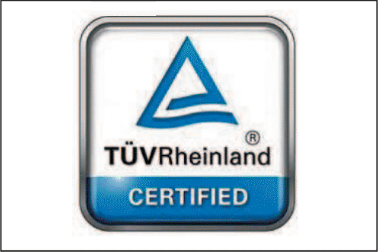 LABORATORY TESTING SERVICE
Cobalt Energy works with accredited laboratories across Europe to conduct a range of laboratory based tests and assessments. Services include:
Standard Test Condition (STC) flash tests
Visual inspections tests
Insulation tests
PID tests
Peel off tests
Gel content tests
We manage the entire process from picking and packing of the modules, to delivering the final professional laboratory reports. All tests are carried out to applicable international and European standards.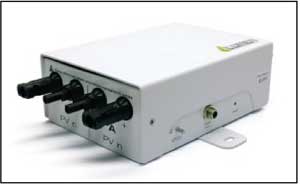 PID DETECTION AND HEALING
The Potential Induced Degradation (PID) phenomenon affecting the cells of PV modules is a process that can occur only a few years after installation. It causes accelerated degradation in performance, which expands exponentially. Cobalt Energy diagnoses PID using advanced analytical techniques such as aerial infrared radiation surveys, traditional EL and Flash Mobile Labs, and also our 'EL Quickcheck Service'. Once detected, we introduce site-specific PID healing technology into the system to start the healing process. Continuous monitoring confirms the progress of restoration and significant healing can be achieved in only a matter of weeks, restoring your assets to generate more power. Cobalt Energy works with world leading hardware suppliers to design and install the optimised solution relating to the site specific findings in both centralised or decentralised site configurations.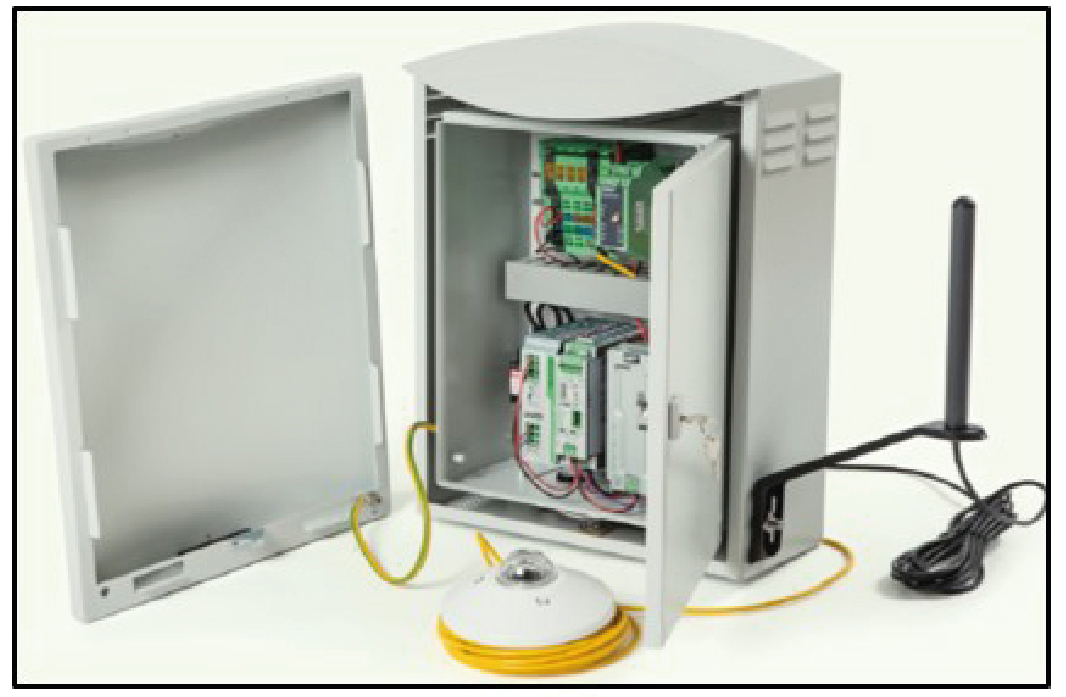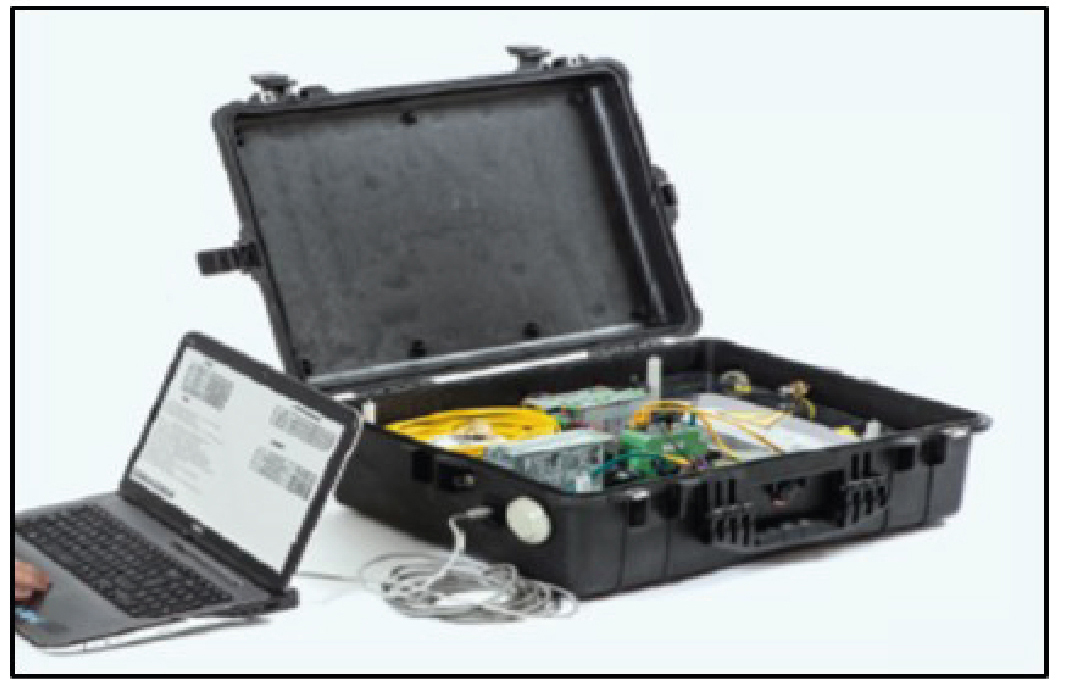 DATA VALIDATION SERVICES
Data is key to validating revenue streams for a solar system. Working with our technology provider, Cobalt Energy has developed a data validation service that can be leased on any site. Meteo sensors and inverter data loggers capture real time irradiance, temperature and wind data. Constructed in a weatherproof outdoor cabinet, they can be placed on a site during the planning or pre-construction phases of a project or during site operation to independently validate the irradiance and temperature data. Real time data reinforces PV GIST (satellite) database assumptions, in some cases maximising the value of a site before acquisition. The data can also be used to check Engineer, Procure, Construction contractor's (EPC's) or the operation and maintenance provider's (O&M's) data, ensuring that operational site irradiance data is accurate and Intermediate Acceptance Certificate (IAC) and Final Acceptance Certificate (FAC) performance tests are correct.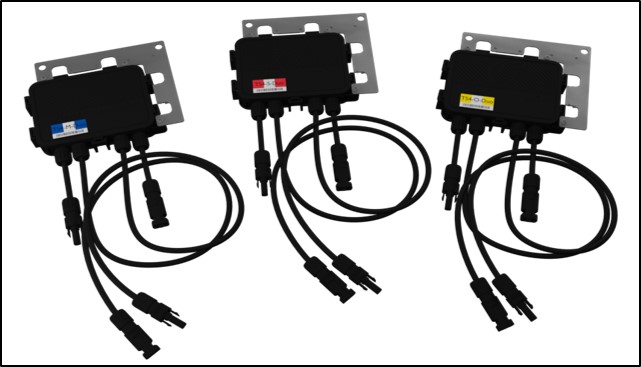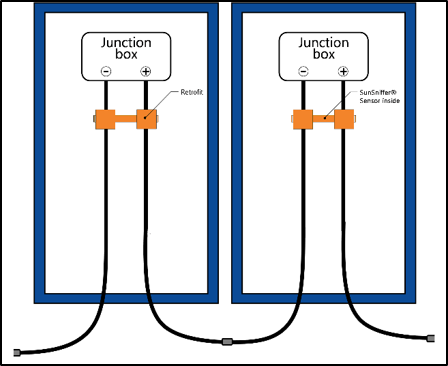 SITE OPTIMISATION & DIGITALISATION
Cobalt Energy is working with Sunsniffer® for module based digitalisation technologies & Tigo® for site optimisation technologies. Sunsniffer® provide retrofit sensors which can either be installed into the junction box or as external units clamped on to the positive and negative DC cables to provide module level monitoring and remote cost based analysis capabilities on whether a particular module, string or inverter issue warrants a trip to site. Tigo® offer a range of junction box retrofitting kits which can be universally attached to any new or existing operational module to provide monitoring, safety (remote power down functions ), and optimisation functionality. Cobalt Energy offer a site evaluation & optimisation service, holistically assessing each site on an individual basis and in some cases carrying out supporting investigations, we present to the asset owner in the form of a cost based analysis (ROI, IRR, payback period), likely site deterioration and demonstrate intervention solutions (such as optimisation, digitalisation, re-stringing, repowering etc) to potentially save asset owners in some cases hundreds of thousands of pounds over the life of the project.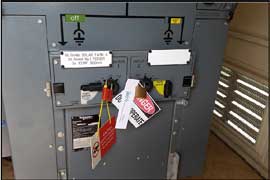 Cobalt Energy offers high voltage expertise to ensure your HV power systems are safe and well maintained. Using our utility scale expertise, Cobalt Energy provides competent and experienced resources to safely execute your HV duties. Our comprehensive range of HV maintenance services include switching, permitting and consulting services relating to HV equipment and grid connections. We are able to deliver HV power analysis, as well as annual maintenance works. We have established relationships with Independent Connection Provider's (ICP's) and can coordinate work between Engineer, Procure and Construct contractors (EPCs) and ICPs through our ICP interface management service. Through our large-scale utility roots, Cobalt Energy complies with a full set of Electrical Safety Rules. Our appointed duty holder authorises our solar team to carry out various levels of HV related tasks, and our system is continually audited to maintain high standards. All of our services are carried out by our experienced in house team of Senior Authorised Personnel (SAP) and Authorised Personnel (AP).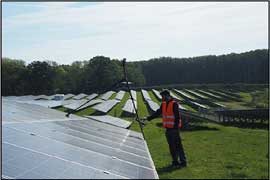 Cobalt Energy offers a technical advisory service, providing site assessments and practical advice gained through years of solar and power generation experience. We carry out End of Warranty Period Inspections to identify contractual, planning, construction and operations and maintenance (O&M) quality and assess the current operational status of any site. Inspections are carried out by our competent and experienced electrical engineers, who are able to apply decades of practical experience in the sector. We are able to highlight items that require attention, saving you both time and money in the long run. Whether it's an existing system or you are planning a solar development, understanding and mitigating the technical risks associated with the project is vital to ensure it represents a good investment. We offer Technical Due Diligence services to understand if a project is technically feasible, identify any technical risks that may influence the sale or acquisition of a site and assess the operational profitability of the site over its lifetime.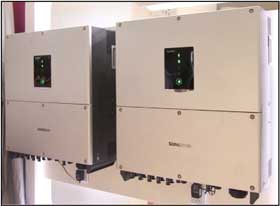 There is over 8.5GWs of large scale solar PV installed in the UK, all of which has a large variety of inverters, modules and other electrical components. Original Equipment Manufacturers (OEMs) need a competent and agile service partner they can trust. Through our experiences of inverter and module maintenance plus analysis in the field, Cobalt Energy is a trusted service partner for several international OEMs. We provide 'open-book' price calculations for our support service solutions, which include remote and site based investigation and diagnostic services. We also have spares management and unit swap-out capabilities. Our approach is focused on quality as well as health and safety and we invest in specialised product specific training for our service team to ensure that issues in the field can be resolved rapidly. Our team offers UK wide coverage with response times to suit our customers' requirements.